Welcome to grow. The website for horticulture careers information.
HORTICULTURE CAREERS NEWS
Pershore takes part in royal pageant
Horticulture Week, 12 June 2012
Florists from Warwickshire College's Pershore centre helped to decorate the Royal Barge for the Queen's diamond jubilee celebrations.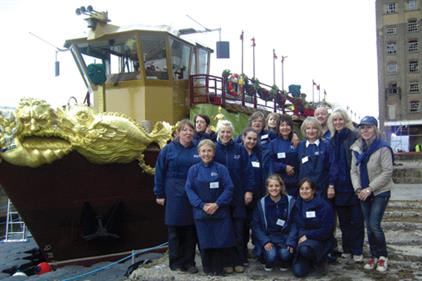 Pershore College takes part in the Queen's Diamond Jubilee flotilla along the Thames - image: Pershore College
The group of 16 staff and students were invited to take part by specialist Surrey nursery Crocus.
The floral design was created by award-winning horticulturalist and TV presenter Rachel de Thame, and was inspired by royal iconography and Her Majesty's coronation gown.
Co-ordinated by celebrated designer Kitty Arden the team used 7,000 cut flowers and 140 plants (of which 90 per cent had been grown in Britain) to produce a splendour of gold, crimsons, purples and highlights of creamy gold.
The barge was part of the regal flotilla, which sailed along the Thames from Battersea to Tower Bridge. Stretching more than seven miles long, it was one of the largest flotillas ever assembled on the river, with rowed boats, working boats and pleasure vessels of all shapes and sizes taking part.
Floristry tutor Sallie Campbell said:
"The week was very demanding and busy, but everyone in the team worked to their full capacity. It was a wonderful learning experience for all involved. We were a part of history and the barge looked absolutely stunning - a floating tribute to all who worked on her."
Grow careers advice line
For information on courses and careers please call 0845 707 8007 (9am - 5pm, Monday - Friday) or email your query by clicking here:
Find a college